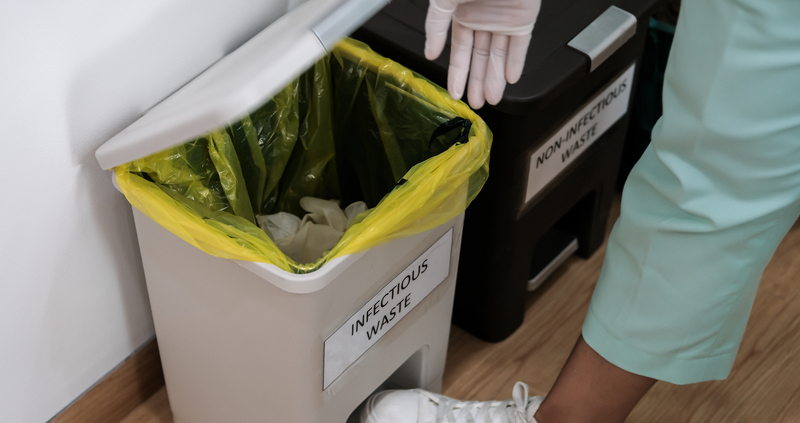 What is Clinical Waste and How To Dispose of it Safely?
In this post we'll list some examples of clinical waste before discussing how you can safely dispose of it. We'll also explore some solutions for fast and effective clinical waste disposal that may help you improve operational efficiency in your healthcare setting.
What is Clinical Waste?
Clinical waste is any waste that contains infectious, or potentially infectious, compounds derived from either medical treatments or biological research.
Clinical waste might also be referred to as biomedical, healthcare or hospital waste.
Examples of Clinical Waste
Discarded sharps. Whether they're contaminated or not, all discarded sharps are considered medical waste, partly because they can cause injury and/or infection when they're not properly disposed of. Examples include needles, scalpels, lancets, and any other device that could penetrate the skin.
Human or animal tissue. This includes identifiable body parts and organs, body fluids such as blood, and used bandages and dressings.
Used medical supplies. This includes any gloves or other items of PPE, whether they've been contaminated with body fluids or not.
Laboratory waste. Including unwanted microbiological cultures and stocks.
General waste from a medical or laboratory setting. Due to the risk of cross-contamination, any other waste that's recognisably from a medical or laboratory setting should also be considered clinical waste and handled accordingly. Examples include packaging, unused bandages, and infusion kits.
The Risks of Clinical Waste
Many types of clinical waste carry an infection risk. Even if an item does not appear to have any visible signs of soiling, if it was used in a medical or laboratory setting, then it may be harbouring pathogens that are invisible to the naked eye. Coming into contact with clinical waste could therefore encourage the spread of communicable diseases.
Clinical waste can be harmful in other ways, too. For example, whether they've been used or not, discarded sharps can seriously injure anyone who comes into contact with them.
How to Safely Dispose of Clinical Waste
To protect the public and the environment, clinical waste must be processed to allow for safe handling and disposal. This usually requires incineration, to destroy any pathogens and sharps in the waste, and to make any source materials unrecognisable. Autoclaves can also be used to sterilise medical waste before it's safe for disposal.
Clinical waste is usually disposed of in a dedicated environment using specialist equipment. As most healthcare settings and laboratories do not have the space or budget for such measures, clinical waste is usually accumulated onsite before being collected for offsite disposal.
As such, for most medical and laboratory settings, managing clinical waste is usually a case of using the right PPE to handle or clean any waste items or tissue, before disposing of the waste in the appropriate steam.
What are Waste Streams?
A standard infection control precaution is to maintain four separate waste streams, each of which is colour coded. Clinical waste should be disposed of based on the infection risk it carries. It's classed as orange or light blue if it's low-risk or "laboratory" waste, or yellow if it carries a high-risk of infection. Healthcare settings should also make use of sharp boxes to safely collect used sharps.
The containers for collecting and transporting clinical waste are usually designed to be as robust as possible, to prevent any tearing, spilling, and contamination. For example, rigid boxes are generally used for sharps.
Effective Clinical Waste Management for Hospitals and Other Healthcare Settings
Safely managing your clinical waste is a critical part of any infection prevention and control strategy. Certain techniques and equipment can make clinical waste management a lot safer and a lot easier, which in turn can improve your hospital's operational efficiency.
For example, use absorbent mats to capture fluids during surgical procedures, or to contain splashes when you're scrubbing up. The T-Mat, for example, gels liquids and becomes dry to the touch within minutes. It hygienically binds fluids, allowing for safe, quick, and easy disposal in the appropriate waste steam. Through cutting down on the time you spend cleaning and decontaminating, the T-Mat can significantly improve your turnaround time between procedures.
As well as a range of absorbent mats, we also stock a selection of clinical waste disposal kits. Our range includes the safe, sturdy and dependable Microb-in Lab waste Disposal container case, and specialist Biohazard Spill Kits and Body Fluid Spill Kits.
Get in touch to discuss how we can support you in safe and effective clinical waste management.
https://cairntechnology.com/wp-content/uploads/2023/08/clinical-waste-Aug.jpg
533
800
Sarah Clements
https://cairntechnology.com/wp-content/uploads/2023/06/Cairn-logo_RGB-compact-3.jpg
Sarah Clements
2023-08-08 05:15:37
2023-08-04 17:19:29
What is Clinical Waste and How To Dispose of it Safely?